Nopin > Products > Shoring Systems
Shoring Systems
A wide variety of adjustable metal struts with excellent price/quality relationship. Highly re-sistant, lightweight and easy to handle.
Heights ranging from 1 to 6 meters with different diameters and thicknesses which allow to shore up any type of slab or beam.
Telescopic Struts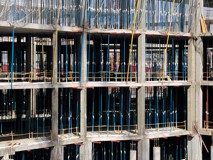 Heights ranging from 1 to 6 meters with different diameters and thicknesses which allow to shore up any type of slab or beam. Made out of the highly resistant steel S-275-JR (ST 44-2). The tubes are cold-formed from a pickling coil, hot rolled without previous heating treatment and electric welded using the latest welding technology and the implementation of systems and its control.
Certified by the most advanced and strict European standards regarding loading and safety. According to these rules we guarantee that:
The steel chemical composition is:
| | %C | %Mn | %P | %S | %Si | %Al |
| --- | --- | --- | --- | --- | --- | --- |
| Max | 0,24 | 1,6 | 0,055 | 0,055 | 0,03 | |
| Min | | | | | | 0,002 |
The mechanical properties of the supplied steel are:
| | RM(Mpa) | RE(Mpa) | A% |
| --- | --- | --- | --- |
| Max | | | |
| Min | 430 | 275 | 17 |
An outstanding finishing resulted from a six stages process which provides greater resistance against oxidation. Prior to the coating application the steel surface receives degreasing trea-tment, phosphatizing, washing, clearing and drying, providing a perfect surface to receive paint coating. Afterwards it is applied a high quality Epoxy-Polyester powder coating, with over 80 μ thickness and it is dried at 270°C.
The thread inside the strut has a straight end and it is greased for a smooth operation and greater durability. A safety recess of 12mm is also milled so to perfectly adjust in the outer tube, which also enables to add an additional safety measure in case of welding defect.
The bases are 4mm thick, 125x125mm, which perfectly prop up the strut on the floor. The washers are 3mm thick and galvanized for better corrosion resistance so increasing the wor-king life of the strut. The cotters are zinc plated and made out of high resistant steel.
The inner tubes are drilled in both the inside and the outside in order to avoid damage in the surface, as well as the punching process which could affect the resistance of the tube. There is the possibility to customize the struts with your logo and company colours.
Manual
Baixar arquivo  
Tabela de Especificações
Baixar arquivo  
Ensaio Eduardo Torroja
Baixar arquivo  
Falseworks
Falseworks are bracing systems for formworks at greater heights and for very heavy loads. They enable shoring up at heights greater than 6m where standard struts can not be used. They are composed of steel frames which are interconnect between themselves thus for-ming a safe and multipurpose structure.
They allow fast and easy assembling because of their reduced number of parts and the large number of accessories that compose the system. An adequate PITCHFORK system on teles-copic struts allows fine adjusting on the top of the Falsework and ensures greater resistance at the propped up points of the formwoks employed.
A light falseworks system configuration is designed to build up parallel structures to separate frames according to the load required.
Dossier Técnico
Baixar arquivo  
Vigas Superbeam HT20
Baixar arquivo  
Ensaio Eduardo Torroja
Baixar arquivo  
Ensaio ICCET
Baixar arquivo  
Multinopin Falseworks
They are the perfect solution for concreting structural systems with large loads and at greater heights, as well as for bearing formworks for domed and cantilevered ceilings.
The system is made of tubular structures based on the multidirectional scaffolding. We also have a wide range of accessories that solve most of the situations that arise in industrial, commercial and residential buildings, as well as in bridges and overpasses.
NOPIN offers its clients the structural design for projects and plans for adequate provision in the building site.